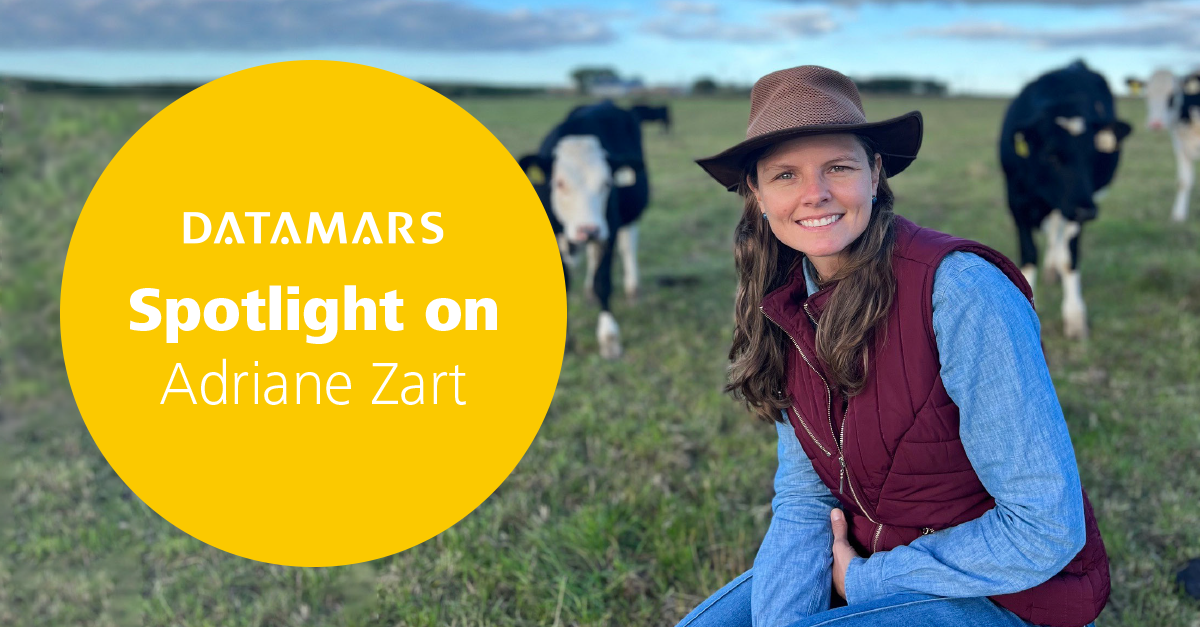 Brazilian-born Adriane works as a Solutions Design Expert in our Smart Farming team in Ireland. Before she moved jobs and countries Adriane was named as one of the top 100 most influential women in agribusiness in Brazil. Here she tells us more about her journey and role within Datamars.
What is your background?
I was born in southern Brazil in a family of farmers passionate about agriculture and livestock. My parents taught me to respect and love animals, nature, and the land. So, as an obvious path, I became a veterinarian with a master's degree in animal health. Before joining Datamars, I was working as a consultant in the health and welfare of cattle in Brazil and other countries in Latin America. With stockmanship concepts from a cattle handling technique known as 'Nothing in the Hands', I've learned that proper handling, and the way we communicate with cattle is essential to the health and well-being of the herd. To me, the way we do things matters; and it's the 'how' that's important.
Tell us about your role at Datamars?
In August 2022 I left my country and my former company and came to Cork, in the south of Ireland, to join Datamars' Smart Farming team and continue my mission in the world of livestock, now with a global company but still with the same purpose. I'm working as a Solution Design Expert. My role is to help the company plan, organize and conduct research to develop new solutions for livestock with a focus on making farming easier and better.
What is the main focus of your role—what does a day in your life look like?
We are currently working on several trials to improve our Tru-Test Active Tags in cattle. We believe this amazing sensor technology can bring many more insights to guide decisions on farm, especially if combined with other Datamars solutions. My usual routine is working in our Cork office on research, planning trials, preparing data for the R&D team to analyse and luckily, being out in the field, working on trial farms. Those are the best days for me!
What was it that attracted you to Datamars?
I have a very clear purpose for my career; help to improve the health and well-being of cattle and people that work in the field and make life on farm better and easier. I was doing this in Brazil working directly on farms, training cowboys and farmers on proper handling and on health analysis to guide decisions. Together with Datamars I believe I can keep focused on my purpose, but on a next level, globally and using more technology to impact positively on farm life.
How do you experience the Datamars purpose to "make a measurable difference"?
For me, having that clear purpose in mind reinforces the purpose of what we do and why we do it every day. It is not just about selling products full of technology and intelligence, but about an entire experience that the farmer will have with our solutions. Our delivery to the customer is constant. We need to be always looking not only to improve the product, but also the reports, the access, the data collection, the integrations with other technologies. In short, we need to be aware that our solutions need to impact the lives of people who are working hard in the field and consequently make the lives of animals better too.
Have you had the opportunity to work with Datamars employees and teams from other regions and countries? On what occasions and how did it go?
This is another great advantage of working at Datamars; dealing with people from all over the world. In my team I have colleagues from New Zealand, Australia, Chile, Ireland, and South Africa. We are also in close contact with R&D team members in Switzerland and Serbia. This mix of cultures undoubtedly enriches the work environment. We recently welcomed managers working in our Smart Farming team from every region of the world here in Cork. Understanding how culture can affect farming and sales strategies in each country was a very interesting experience.
Outside of work-life, what's one thing you have achieved that you are proud of?
In 2021 I received recognition that really touched me: I was listed by Forbes Magazine among the 100 most influential women in agribusiness in Brazil. This achievement made me even more certain that all the energy and love I was putting into my work was being felt by the people I worked with. And being on that list, among so many other women I admire, was a stimulus to remain strong in my purpose.