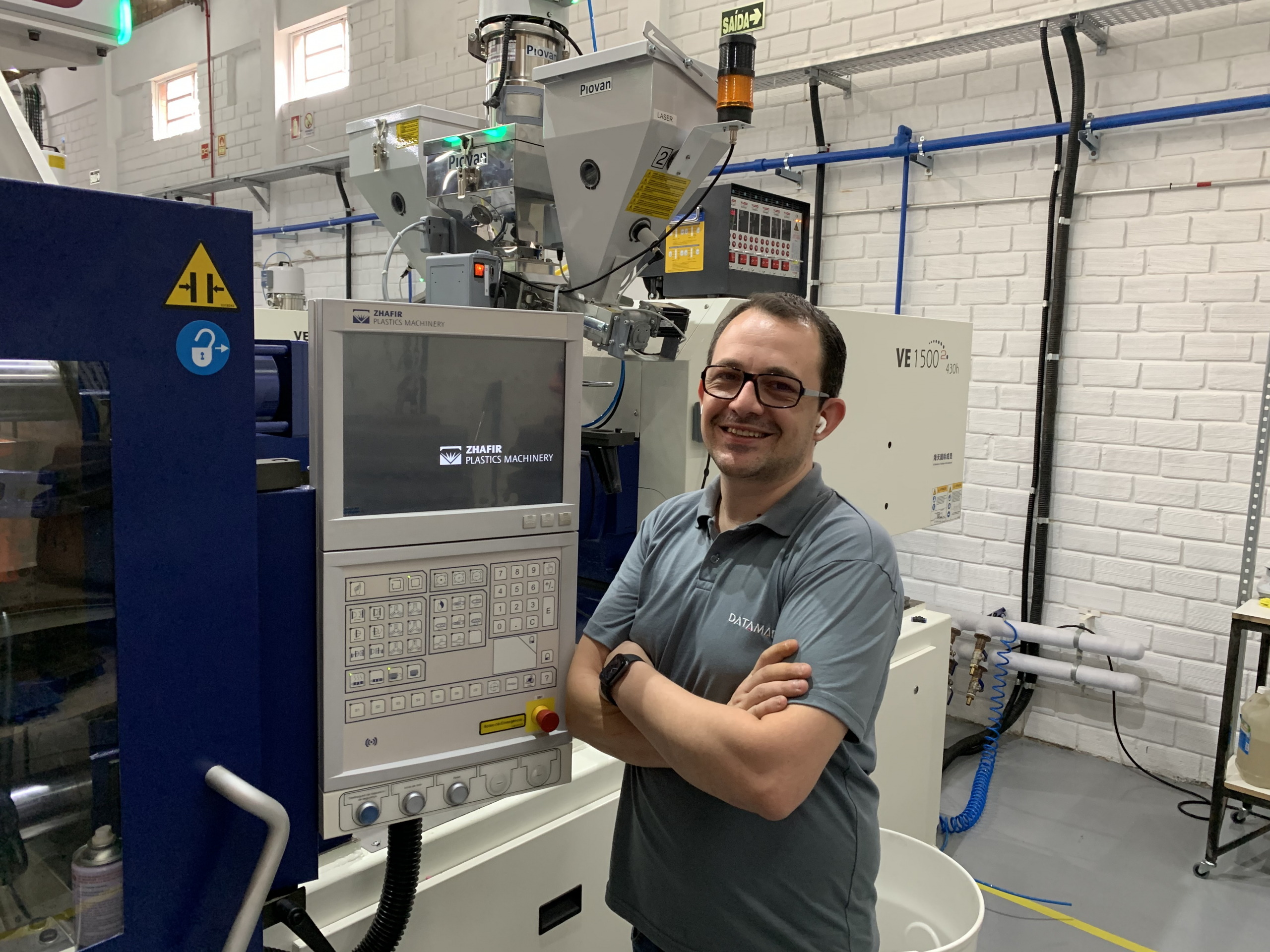 Italian born Paolo Cicuta took the opportunity to live abroad and join Datamars Slovakia as an Injection Molding Specialist four years ago and now is on a new adventure to Datamars Brazil, taking on the challenge of opening up our new injection molding plant in Porto Alegre.
Paolo started working in the injection molding sector at 17, and says his passion for the work was inherited from his father who worked in the profession for 30 years. In May 2016 he was contacted by the then General Manager of Datamars Slovakia, Christian Narvaez, asking if he was interested in a new job opportunity abroad.
"At that time I was working in Italy and wanted to change. I love to travel, and after visiting Datamars Slovakia I realized that this was my chance to change my life and have an experience abroad with a growing multinational company," says Paolo.
Paolo was mainly involved in the optimization of production processes and in the validation of new molds and products. He helped the local production grow and gave support for the purchase of new machines and equipment and for the transfer to the new plant.
Paolo enjoyed the work and his time in Slovakia and is thankful for the opportunity Datamars gave him to grow with the company.
"The first thing I noticed in Datamars after a few months, was that if you show potential and seek opportunities the company gives you all the support to help you grow within Datamars.
"My life in Slovakia was really beautiful. It is a lovely country in the centre of Europe with many cities to visit and is surrounded by nature. I fell in love with Slovakia and met people who are like my second family and will always remain in my heart."
Last year Paolo heard that Datamars was opening an injection molding plant in Porto Alegre. He told management that if they needed a person to help start production they could count on him.
"The thing that attracted me to this new role is the possibility to start a production plant from zero, build a new team, have personal growth and utilise my potential.
"With a population of 429 million, South America has enormous potential for Datamars and we have the opportunity to become the leaders of this market by making customers aware of the quality of our products and how they can help them and by releasing new products to the market."
Paolo arrived in Porto Alegre in August and is feeling comfortable in his new home.
"I have found some fantastic people who are helping me settle in and the local team is very friendly. Porto Alegre is a big city and it's very nice.
"I haven't had the chance to travel much around Brazil yet, but I have been to Gramado which is a city made up of German and Italian people. It seems to be in Europe! In the Rio Grande do Sul area there is a great influence deriving from the immigration of Italians and Germans who arrived in 1880. Many Italians came from the Veneto, which is a region bordering my region of birth, so between Polenta and Prosecco I can say that I feel at home."
"I am very happy I took this opportunity; I have learned new languages and am collaborating with some fantastic colleagues. A better choice I could not make!"