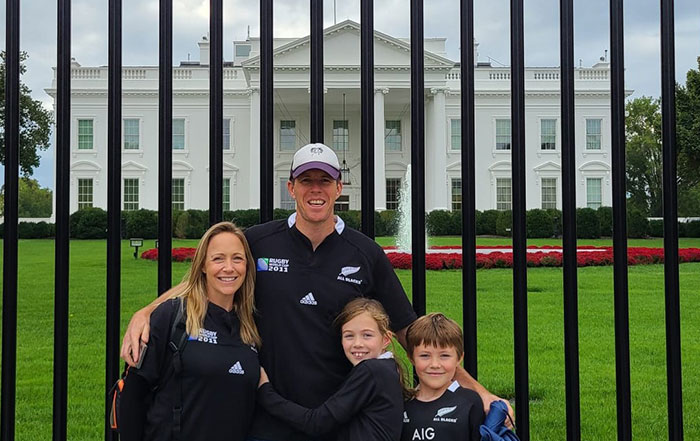 As part of our Datamars 'Spotlight On' series, Juliette Banks, Communications Manager, caught up with Cameron Ewart, Vice President, Pet ID North America.
Tell us about your personal background?
I was raised on a sheep and beef farm in Canterbury, in the South Island of New Zealand. I never thought I'd want or need to leave the South Island, but after graduating from university I left for my 'overseas experience' – which many Kiwis do – and caught the travel bug. Ironically, the first leg of my travels was to a place in New Hampshire, USA, where I spent a lot of time and is only one hour away from where we live now, 20 years later!
My career began in the FMCG (Fast Moving Consumer Goods) industry which was a great training ground and where I met my beautiful wife! Ultimately though, I always wanted to work in the agriculture industry where I could connect with great people and be challenged commercially – and that has led me to where I am now.
My wife Charlie, daughter Felicity, son Theo and I now live in Boston enjoying everything New England and the US have to offer.
Tell us about your role at Datamars.
My current role is Vice President, Pet ID North America. Simply put, our business unit sells microchip identification and reunification services. I'm incredibly lucky that over the years the team here has grown the business to a point where the foundations in distribution, customer support, database management, and our online channel are all very well established. My role really is about managing that critical mass to ensure we continue driving profitable growth, whilst staying ahead of our competitors and maintaining relevance with our customers, distributors, and the market.
What is the main focus of your role – what does a day in the life look like?
Every day is different which is the greatest thing about the role. From a functional perspective, we have a lot of moving parts, so it's important that we're sure every cog is turning as it should be. We habitually review a number of different metrics for this which is typically how I start my day. After that, the time flies, from working with sales reps and distributors to managing technical aspects of a database with 6 million+ pets. From there it could be reviewing online store revenue streams and planning campaigns or supporting any customer service escalations.
I also try to make sure I'm coaching and supporting my team to reach their full potential, so they're motivated and inspired to succeed.
We have an amazing team and a supportive manager who ensures we get through the day with a smile on the dial at the end of it.
What was it that attracted you to Datamars?
I arrived at Datamars via acquisition. I was managing our Global Distributors for Zee Tags which was then purchased by Datamars. Transitioning from a small NZ owned and managed company to working through a head office in Switzerland was a real change, but something that I learnt and continue to learn a lot from.
What has kept me at Datamars has been the people (internal and external), the breadth of challenges, the continuous learning and being involved with a company that has such an exciting growth journey. I'm also lucky to have managers supporting my growth, both professionally and personally.
How do you experience the Datamars purpose to "make a measurable difference"?
For me it aligns absolutely with everything we do and strive to be. I think we're all aware of the user case and journey within our respective business units at least, but it's also important that we live the vision with our people. The past two years have been difficult for many people for many different reasons, so it's important to remember we can all make a difference to the colleagues and the customers we interact with every day.
Have you had the opportunity to work with Datamars employees and teams from other regions and countries? On what occasions and how did it go?
Having been a part of Datamars now for eight years I've been lucky to be exposed to many of the subsidiaries for various reasons. While the interactions vary, the people are always fantastic, professional to deal with, and dedicated to making things happen.
I was also lucky enough to spend three years based out of the factory in Thailand, so spent a lot of time with the brilliant team there. I can't say enough good things about the people. They're fantastic. If you asked them, I'm sure they'd be quick to let you know about my poor local language skills and the numerous awkward and memorable moments that created.
Outside of work-life, what's one thing we'll never see you do?
Skydiving. Never. People say overcome your fears. Not that one. Nope.