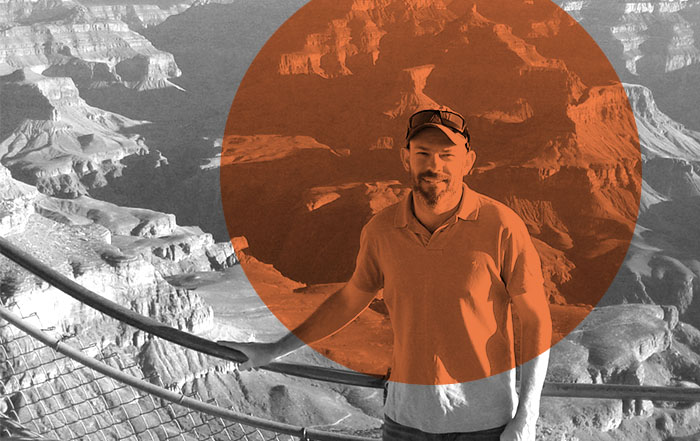 As part of our Datamars 'Spotlight On' series, Juliette Banks, Communications Manager, caught up with James Ellis who was recently promoted to the role of Western Regional Manager for Australia.
Tell us about your personal background?
I've spent my life in the rural industry. I started with Landmark and then moved into a role with Tru-test, so accumulatively I've been with Datamars for 16 years. Growing up my dad had a farm machinery business selling John Deere tractors, so I've always been in this space and love it. My partner, Jane, and I live in Naracoote which is three hours south of Adelaide, and we have a daughter, Daphne, who is now 18 months old.
Tell us about your role at Datamars?
In September I took on a new role as the Regional Sales Manager which covers Western Australia, South Australia, and the Northern Territory. Before that, I was a territory manager for the South-East of South Australia and the top half of the Northern Territory.
What is the main focus of your role – what does a day in the life look like?
I look after our customers who are store-based. We don't have a full team at the moment – we are working on it – so product training and product support with our customers are especially important. I also have a big focus on supporting our territory managers in the west, south, and north territories in Australia.
The team spends their days calling on our reseller customers and on-farm working with end-users, teaching them how to use our products, solving any problems, and advising in the best application for our solutions. That's the part I enjoy the most – dealing with the end-user and working collaboratively. It's about finding ways to help them achieve what they are trying to do more easily or efficiently. It's increasingly about Smart Farming, helping people to hone in on the high-performing animals.
What does it mean to be part of your particular sector?
It's just something I've always enjoyed. I've always been in agriculture and as I don't have a farm myself, being a part of Datamars means I can still work in this space, fuelling my life-long passion. At the end of the day, we are feeding people – it doesn't get more important than that.
What is it like to work with teams from different cultures and various markets?
I really enjoy it. It's one of the benefits of working at Datamars. We are a global business which provides us the insight into what the industry looks like around the world, along with an understanding of what is working so we can bring that knowledge back to our own region. For example, I'm dealing a lot with teams in New Zealand on supply meetings and tech support.
What is the most satisfying element of your job?
Being able to find solutions for end-users. I get a kick out of that. When someone's in a bit of strife I can go in and help them by showing them what our products and solutions can do to make their lives easier, and their livelihoods more productive.
What is the most challenging element of your job?
Communicating with customers during COVID and not being able to travel as much. Now I work with customers on issues to understand what their problem is and work to solve it on the phone. The supply piece has also been quite challenging, with reduced stock, but fortunately we are beginning to see the end of this issue.
How do you view the Datamars purpose "to make a measurable difference"?
It's at the heart of everything we do at Datamars. In a practical sense, this is a really exciting time in my area of the business with new solutions. For example, the walk over products for cattle are now being looked at for sheep – customers in South Australia are very excited about that.
How would you like to work more closely with other teams across Datamars?
Sharing knowledge is something I'm interested in. I enjoy finding out what's worked in other markets and seeing if they might work in our market – and the reverse as well. Showing what's worked here and other markets being able to take advantage of that information. We've already used some of the marketing plans and promotions from campaigns in other parts of the world, and they've used ours.
What does your perfect day look like?
Well, it's changed quite a bit over the past 18 months. It used to be riding my motorbike but now it sits in the shed doing nothing. I have done a lot of motorbike tours, including one through the United States which I enjoy. Playing golf and catching up with mates are on the top of my list, but I'm more likely to be playing in the mud with Daphne. Why do kids like eating mud so much?